FAQs
Answers To Common Questions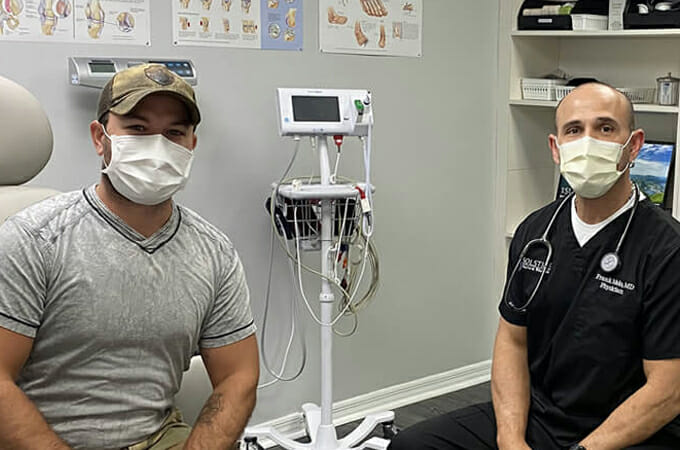 What are your fees?
We offer affordable membership plans involving pre-determined package of healthcare services for a monthly fee. We do not bill insurance, which means we work directly for you and do not receive health insurance reimbursement to pay for our services. It offers the most value for your healthcare without the limitations of insurance coverage, co-pays, or hidden fees.
What is included in the membership?
The flat monthly fee covers everything that can be done in our office or via telemedicine visit including health physicals, acute medical care for sick visits or minor injuries, chronic disease management such as for high blood pressure, diabetes, addiction treatment, common office procedures, and care coordination. Benefits include unlimited follow up visits, a greater degree of personalized care, 24/7 accessibility to physician and staff, flexible appointment scheduling and integrated services.
What is telemedicine? Are there any fees for this?
Telemedicine means communicating with your doctor about your medical concerns via a phone call, text, email or even a video visit. Many patients are seeking out this type of care between office visits for convenience but it is generally not covered by their health insurance.
Do you accept insurance?
While we are not in-network, our statements may be submitted for full or partial reimbursement if allowable by your health insurance plan. Please contact your health insurance provider directly to verify amount covered, deductible and co-payments for out-of-network providers by asking the following questions:
Am I eligible for out-of-network (OON) benefits?
How much is covered for OON provider
How much is my deductible and has it been met?
What is the co-pay amount for OON?
Are there other out-of-pocket fees I need to be aware of?
Do I still need insurance if I become a member?
Yes. Direct Primary Care is not insurance and is not a substitute for health insurance. You should still maintain your present health insurance plan or purchase one. The most common and economical approach is a high deductible plan with lower monthly premiums to cover for specialized care, emergency room visits, complex procedures and hospitalization.
Why would I pay for this when I already have health insurance?
In a nutshell, a membership ensures fast access to personalized care AND saves money for our patients. Insurance is most important for coverage of emergencies or other serious medical conditions. We have helped save money for patients with even the most comprehensive health insurance plans and there are even greater savings to be found when pairing a membership with a high deductible plan.
I usually only see the doctor once or twice a year. Why can't I just pay cash when a visit is needed?
The direct care model works to keep the costs down for all patients because everyone is paying a monthly fee. This allows the total membership costs to stay relatively low. Some patients may feel that they only need the doctor on a minimal basis but this can change very quickly with a bad bronchitis, new injury or other unexpected medical problem. Life is unpredictable but having a membership plan means that you are covered when you need it. It is also ideal for "healthy" patients because we have more time to devote to prevention and lifestyle issues allowing us to focus on your wellness and longevity.
Can I use my FSA or HSA accounts/cards with Solstice?
Very likely. You may be able to use FSA (flex spending) or HSA (health savings) to pay for our fees. Please contact your FSA/HSA provider to verify eligibility.
Can I use my insurance elsewhere if I join Solstice?
Your insurance plans will continue to operate "as usual" at other doctors, hospitals and pharmacies.
What about lab work and other testing?
All members have access to many basic lab and diagnostic testing (diabetes testing, strep, pregnancy test, EKG, uranalysis, etc.) for no charge at all. Most health insurance companies cover labs not covered under the membership. For uninsured patients or non-coverage by health insurance, we offer significantly discount wholesale prices 50%-90% less than out of pocket cost.
What if I need a specialist, special testing, ER, surgery?
We can order and refer just as any insurance-based doctor can. We can provide many urgent care (stitches, simple fractures, etc.) and office procedures (toenail removal, skin biopsy, etc) to avoid a trip to the ER.
Are there any contracts or commitments?
A minimum of the first month of membership and a registration fee is paid upfront and are non-refundable. If you decide to cancel and have a balance of prepaid membership fees remaining, a pro-rated refund will be given to you based upon date of cancellation.
Can I submit claims to my health insurance?
Members may submit claims for services not included in the membership (specialized services, tests, labs, and x-rays, etc.) for out-of-network reimbursement.
May I re-start my membership after canceling?
Yes, we do allow for re-enrollment after cancellation, but members will be charged a re-enrollment fee before service can be restarted.
Why Choose Solstice Health & Wellness?
For a better doctor/ patient relationship, accessible care, convenience and a stress-free way to get and stay healthy.
What if I have more questions?
As a courtesy to interested individuals, we offer a complimentary visit to provide information about our services, pricing and payment options.
What are your regular clinic hours?
Our regular clinic hours are 8:00 am – 5:00 pm, Monday-Friday. However, all members have access to the doctor 24/7/365 by phone and after-hours visits if required.
*Please do not submit any Protected Health Information (PHI).